Tadiran Solutions
We have developed call recording and quality monitoring solutions for all Tadiran platforms. Our recording solution integrates with Tadiran systems to capture required communications and related call details. We have worked closely with Tadiran engineers to provide full integration with the Composit Contact Center in our solution.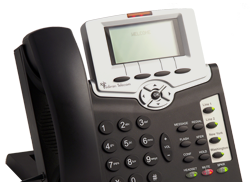 Our solution supports multi-site distributed architectures as well as redundant environments. We also offer integrated screen capture, agent evaluation, and include customizeable report analytics.
Supports passive tapping of T1/E1, analog trunks, and port mirroring based recording of VoIP. Trunk side recording can be combined with integration to a CLA link to capture call information. Port mirroring based recording works with MGCP, SIP, and SIP trunks.
Integration
For more information about the Edigin SVRX integration with Avaya, or any other integration platform we support, please contact the sales department using the form provided, email us directly, or call.
VoIP Recording
Port mirroring (span) packet sniffing technology is used to record Tadiran VoIP phones. MGCP or SIP call control packets as well as RTP audio are recorded. Edigin has worked with Tadiran to decode the proprietary information in the call control messages to record enhanced information about calls such as caller ID data that shows up on a display and call direction.
Edigin's patent pending ALGR technology allows the SVRX to record remote employees that are connected to the phone system through a Sentinel. By mirroring the data going in/out of the Sentinel into the recorder, we are able to uniquely record calls from a public data stream. This is impossible for other recorders to do because all other recorders rely on getting the MAC address of the phone in the packets to record it and it's not available in a public network.
The SVRX supports recording on demand using three separate methods:
Phone: Phone key presses
Web: The SVRX web based monitoring dashboard
Application: An installed SVRX client application
Recording on demand also supports two modes of recording:
Toggle mode: Allows the recorder to be turned on or off at any time
Entire call mode: Records the entire call no matter when in the call the record request was made
Composit Integration
Tadiran and Edigin engineers worked together to provide a fully featured integration between the Composit Contact Center and the SVRX recorder. The Composit is able to completely control what calls are recorded and when the recordings start and stop. The Composit also tags recorded calls with a rich set of data to enhance the search and reporting features of the recorder. The agent that took the call is set, the call label may be set, notes typed during the call are added as comments to the recording, and custom fields can be set.
Traditional Recording
For Tadiran customers that are using analog or digital stations, the SVRX supports passive wire tapping to record those phones. Audio is recorded as well as some additional information from the display of the phone that could include callerID.
In configurations to record T1/E1/PRI lines, the SVRX also supports an integration to the CLA link to capture additional information such as the agent or extension that answered the call. With T1/E1/PRI recording, calling and called party and call direction are captured even without the CLA link integration.